Amazon's India Prime Day 2023 shattered previous records with a peak of 22,190 orders received in a minute. An important aspect of Amazon's India Prime Day was the benefits it offers to Prime Members. Thousands of sellers, brands, and bank partners collaborated to help Prime members save a staggering sum of over Rs. 300 Crores. The 2 day (July 15-16) event even witnessed strong growth in Prime membership, with 14% more members shopping than last year's Prime Day event. 45,000+ new products were launched by over 400+ top Indian and global brands.
However, our analysis reveals that Amazon was able to make a huge splash despite adopting a relatively modest discounting strategy for the event.
Pricing and Discounts on Prime Day 2023
While Prime Day is Amazon's showstopper, bringing huge benefits to partner brands and sellers, it's interesting to also see how Flipkart responded to such a massive sale by its biggest competitor. Therefore, we leveraged our proprietary data aggregation and analysis platform to analyze the prices and discounts of Amazon and Flipkart across key product categories – Apparel, Home & Furniture, Consumer Electronics, and Health & Beauty – during Prime Day.
Since products on Amazon and other eCommerce websites are often sold at discounts even on normal days not linked to a sale event, we delved into the real value that Prime Day offers to shoppers by focusing on price reductions or additional discounts during the sale compared to the week before. As a result, our approach highlights the genuine benefits of the event for shoppers who count on lower prices during the sale.
Research Methodology
For our analysis, we tracked the prices of a large number of products across Amazon and Flipkart during Prime Day as well as the week prior to the event. The details of our sample are mentioned below:
Number of SKUs: 85,000+
Retailers: Amazon, Flipkart
Categories: Apparel, Home & Furniture, Consumer Electronics, Health & Beauty
Pre-event Analysis:10-14 July 2023
Prime Day Analysis: 15-16 July 2023
Our Findings
Based on our analysis, Prime Day showcased relatively higher price reductions in the Health and Beauty category, offering an average additional discount of 5.3%. In comparison, the Apparel category had lower discounts at 4.90%, followed by the Home & Furniture category at 2.50% during the sale event.
The Consumer Electronics category, known for attractive prices during sale events, featured only 0.9% price reductions. This is due to the fact that the category was already being sold at a very high average discount of around 44.8% the week prior to Prime Day.
Below, we delve deeper into our analysis of each category to better understand how price reductions were distributed across key subcategories on Amazon. We also report on the degree to which Flipkart responded to Amazon's pricing actions during the event.
Apparel
As Amazon grappled with heightened costs and reduced profit margins in apparel (like most other retailers), its average discount before Prime Day was already at 36.5%. Then, on Prime Day, Amazon's apparel deals were tempered at around 4.9% average price reduction across 43.7% of its assortment.
Flipkart, on the other hand, offered only a modest additional discount of 1.8% across 17.7% of its Apparel assortment. It's clear that while Flipkart took steps to compete against Amazon in this category, it was done to a lower extent on fewer products than Amazon.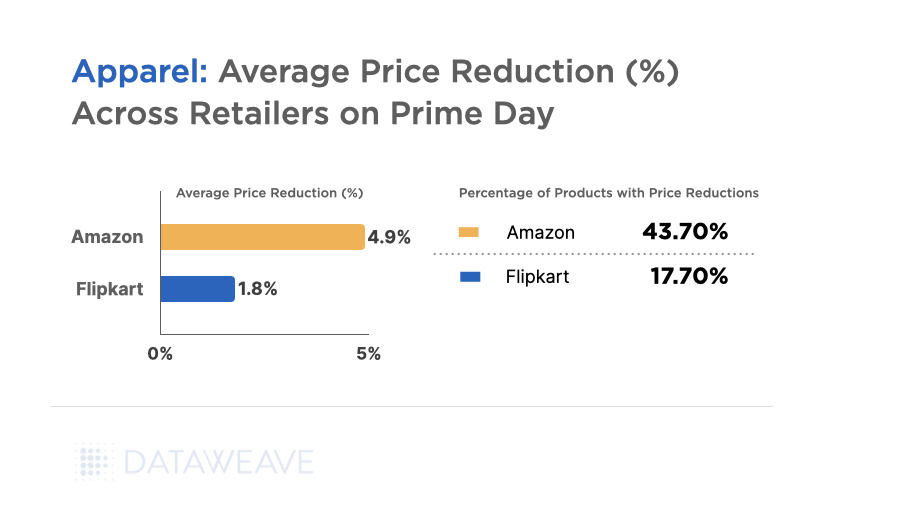 Across all the apparel subcategories we analyzed, Men's Shoes (11.6%), Women's Shoes (9.5%), and Men's Shirts (8.7%) were among the ones with the highest price reductions. On the other hand, Men's and Women's Swimwear (2.3%), Women's Innerwear (2.9%), and Women's Athleisure (3.3%) had conservative markdowns.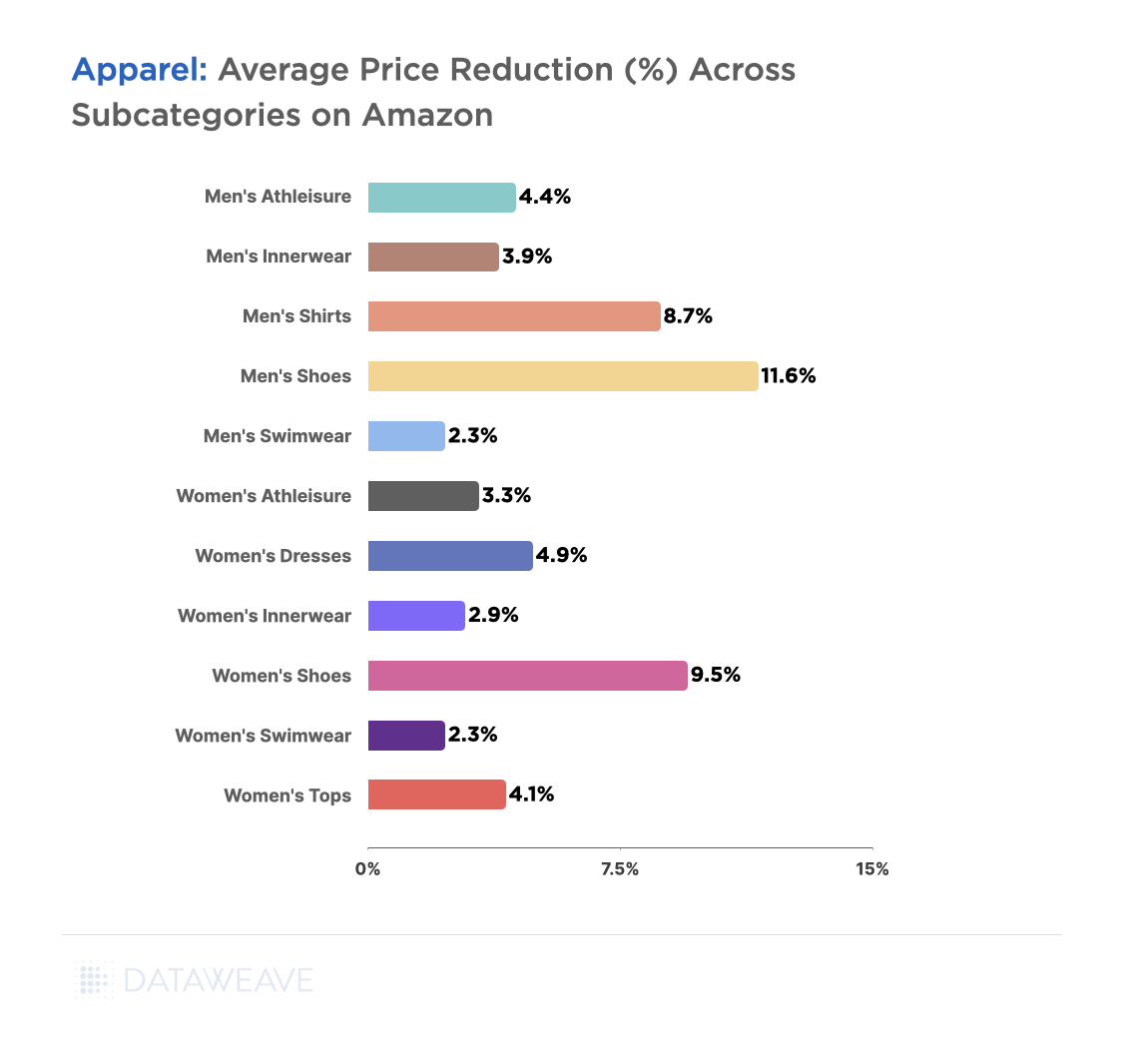 Pricing choices within different subcategories likely stemmed from a range of factors, such as inventory quantities, trends in demand, and the aim to harmonize competitive deals with the maintenance of viable profit margins. These decisions reflect Amazon's attempt to cater to a consumer base that is particularly conscious of pricing.
Across all apparel subcategories, leading brands that offered the highest markdowns were Sweet Dreams (65.5%), Ketch (55.1%), Clarks (44.9%), and Kibo (38.4%). Meanwhile, Reebok and Adidas offered significant additional discounts at 26.3% and 24.9%, respectively, as well.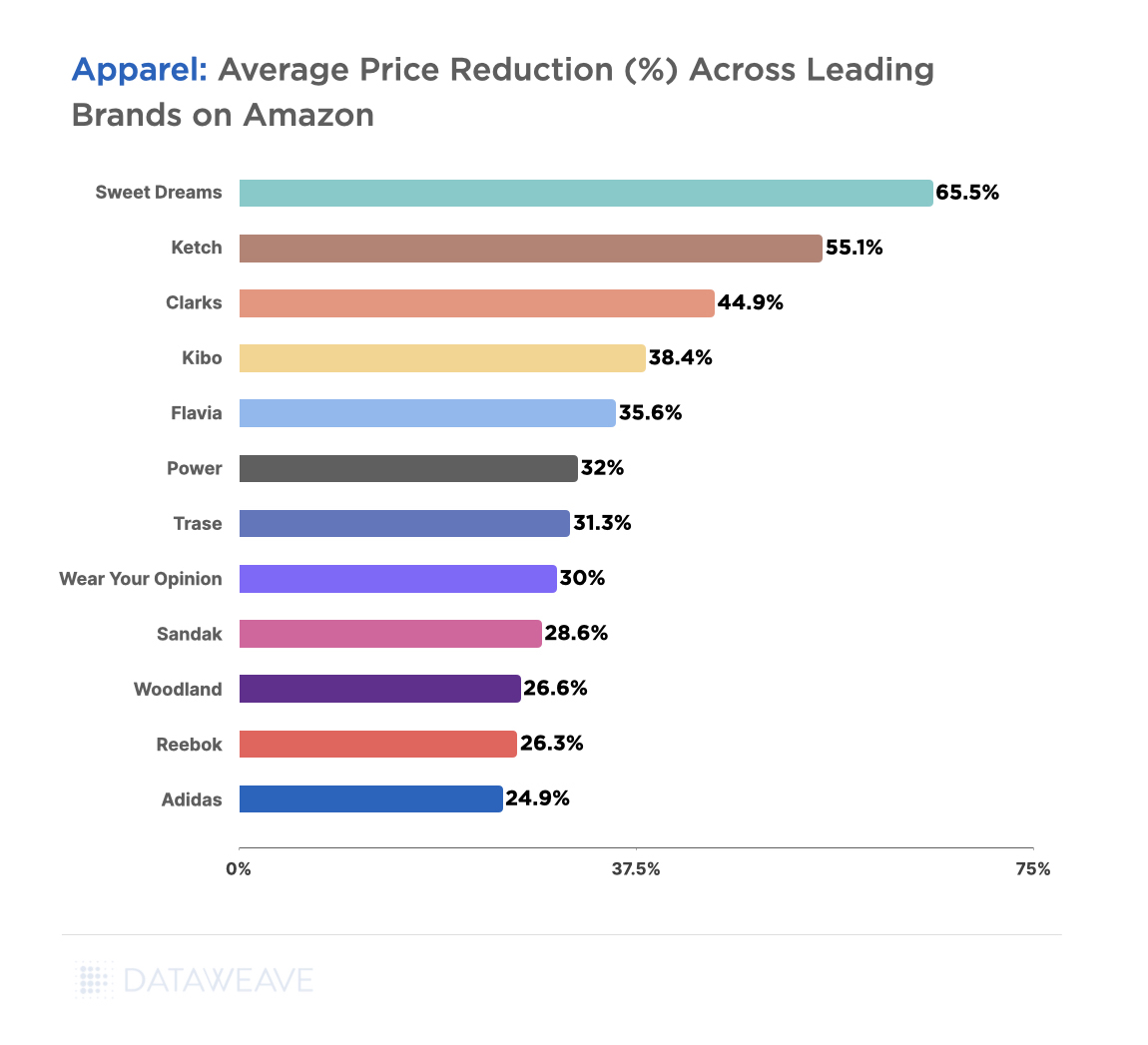 For brands, however, reducing prices is just one approach to entice shoppers. They must also guarantee their prominent presence and easy discoverability within Amazon's search results. This significantly amplifies their potential to generate higher clicks and conversions. In our analysis, we monitored brands' Share of Search across various frequently used search terms in addition to the discounts they provided. The Share of Search denotes the portion of a brand's products within the top 20 search results for a specific search query.
Our data indicates that certain brands gained ground in their discoverability during Prime Day, while others fell behind. Van Heusen in Women's Athleisure (30%), Campus in Men's Shoes (50%), and Rovar's (30%) in Women's Swimwear among others, improved their Share of Search by significant levels during Prime Day.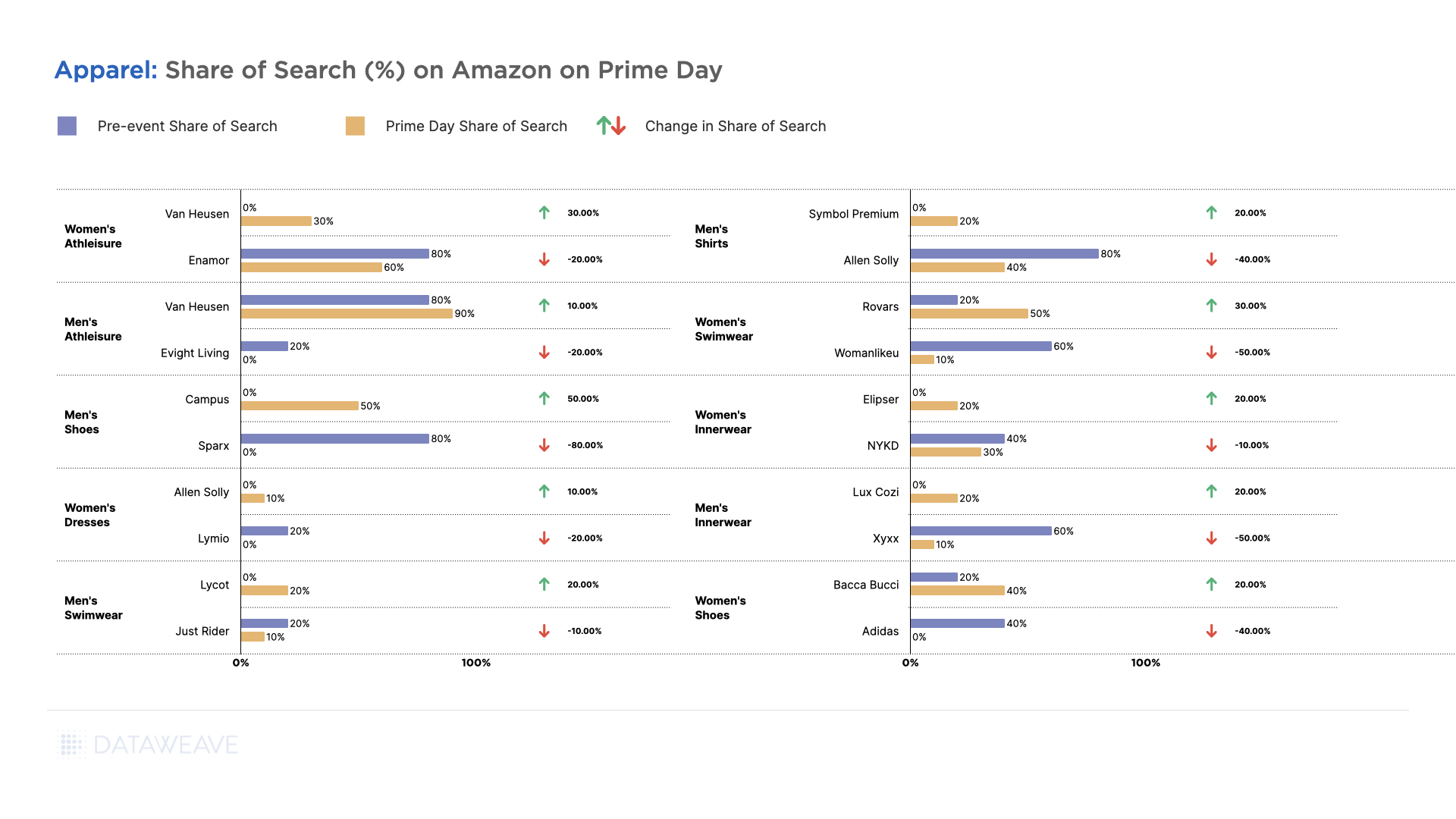 On the other hand, brands like Sparkx in Men's Shoes, Xyxx in Men's Innerwear, WomanLikeU in Women's Swimwear, and Adidas in Women's Shoes lost around 40%-80% in their Share of Search during the event. This is likely to have impacted their sales volumes adversely.
Home & Furniture
The Home & Furniture industry faced challenges of reduced demand and overstocked inventory over the past year. Therefore, even before Prime Day, discounts offered in this category on Amazon averaged a staggering 45.3%. Consequently, on Amazon Prime Day, additional discounts averaged only 2.5% on Amazon, offered across 33.3% of its assortment. Flipkart opted, in effect, not to compete with Amazon in this category, offering a negligible additional discount of 0.8% across 14.70% of its assortment.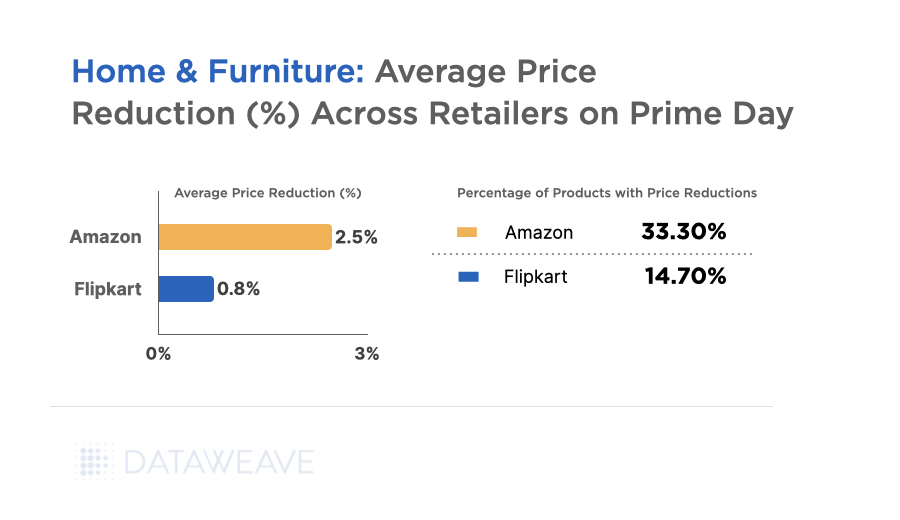 Of all the Home & Furniture subcategories we analyzed, Luggage (5.1%), Beds (3.9%), and Coffee Tables (3.1%) had high price reductions, while Rugs (0.6%), Bookcases (1.5%), and Washer/Dryers (1.2%) had lower markdowns. This highlights the difference in consumer preferences across geographies, with rugs being more discretionary in India but staple in the US.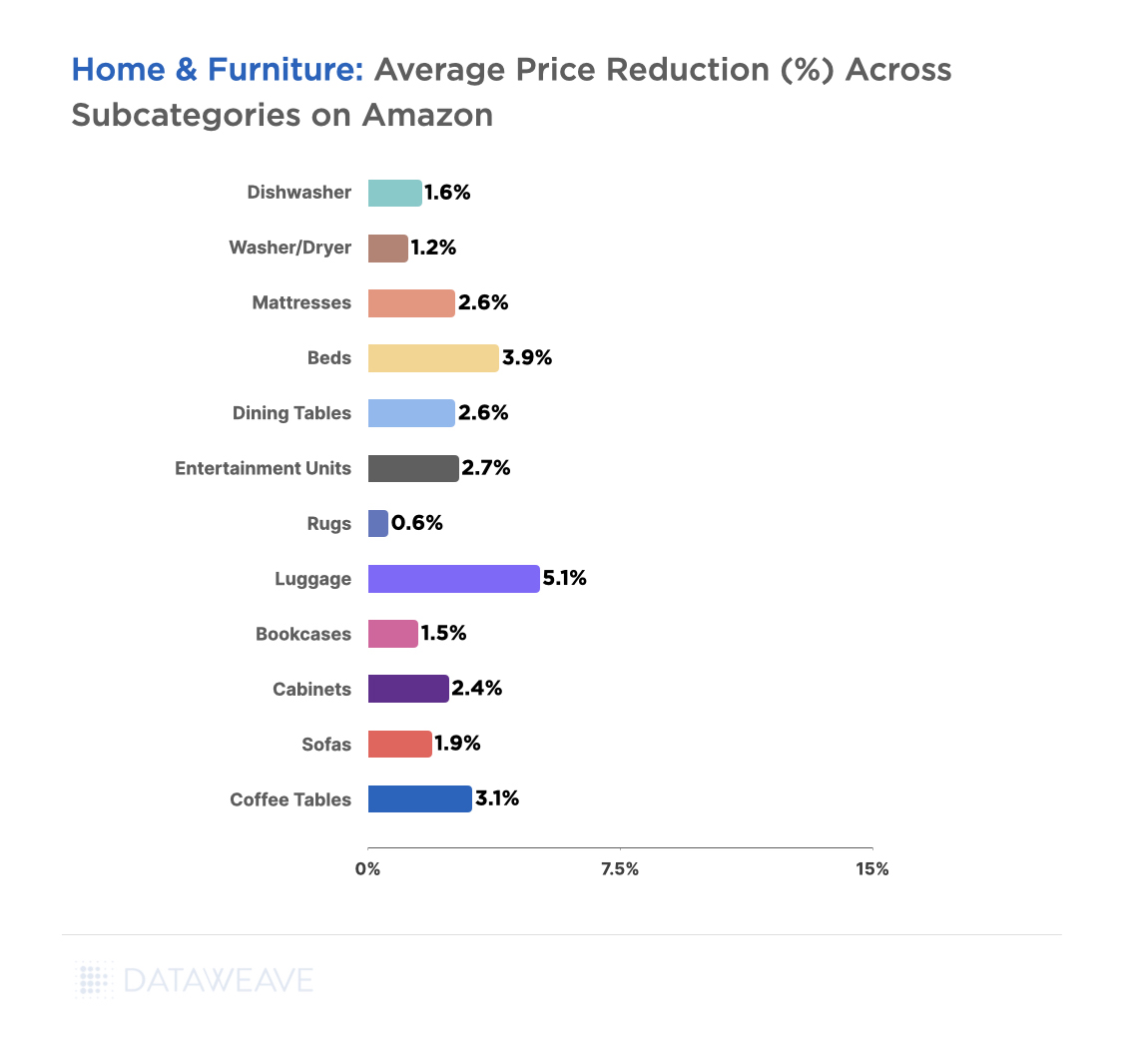 The Home & Furniture category is not known for its brand loyalty among shoppers. Therefore, brands often rely on attractive pricing to gain shopper interest. This Prime Day, brands that offered the highest markdowns in this category include It Luggage (40%), Couch Culture (25.8%), Story@Home (23.3%), and Verage (21.2%).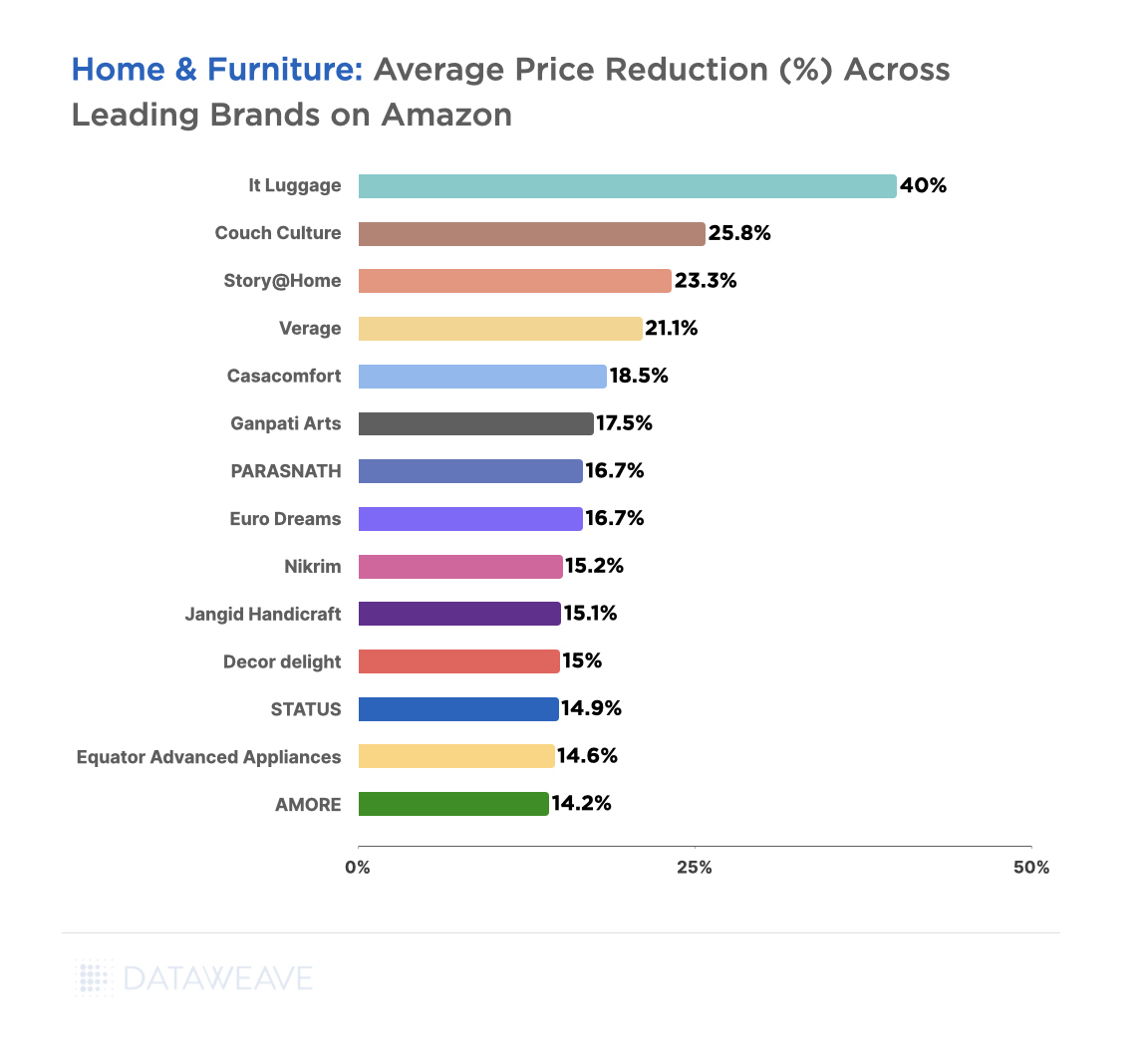 In terms of Share of Search, Wudparadise in Entertainment Units gained the highest (50%). Solimo (an Amazon Brand) in Beds (40%), Sofas (30%), and Coffee Tables (10%) gained significant ground in its respective categories too. In contrast, About Space in Bookcases (-60%), Anika in Entertainment Units (-40%), and Sleepyhead in Mattresses (-40%) lost out on their discoverability in their respective categories during the event.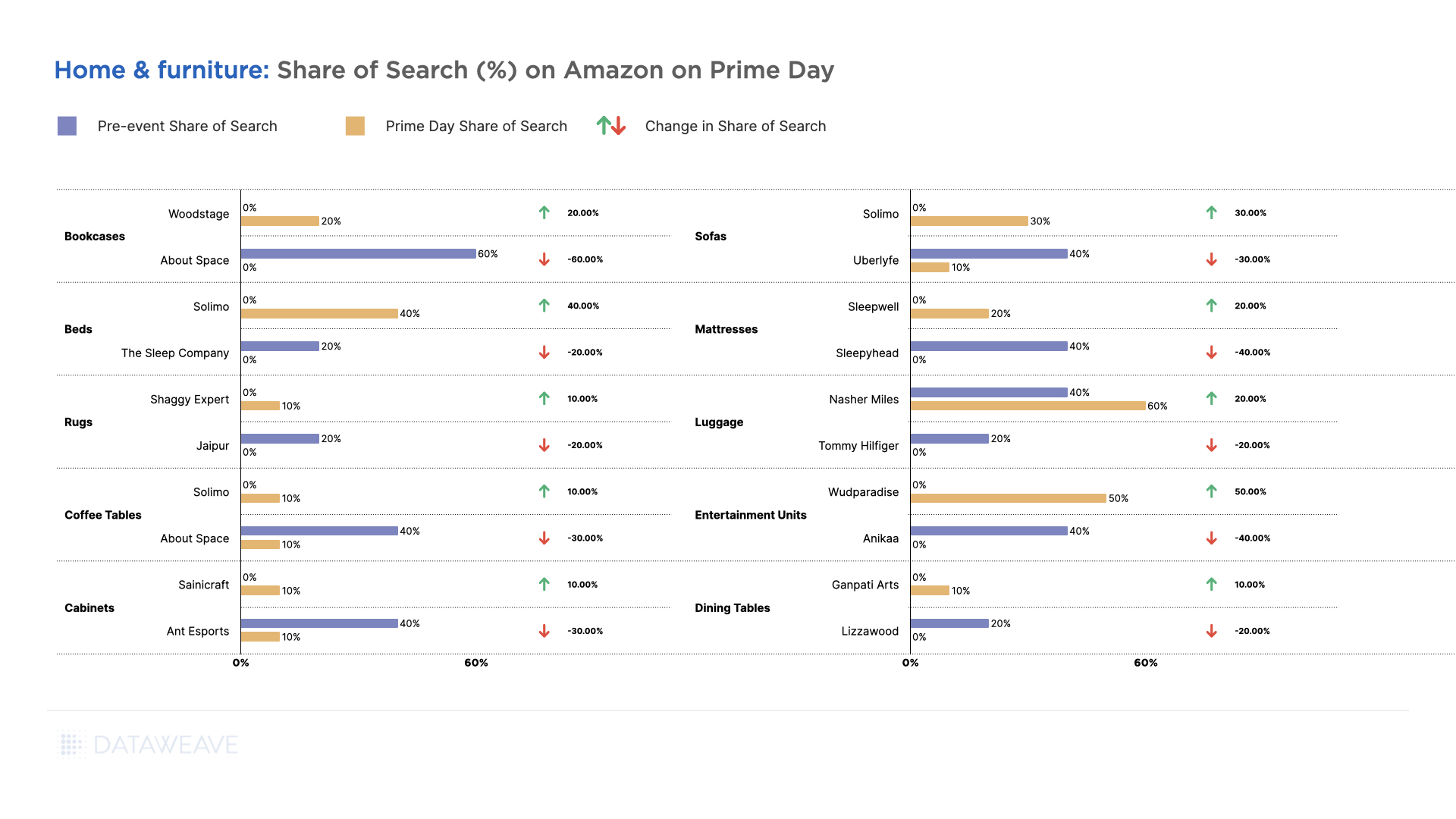 To gain a competitive edge during sale events like Prime Day, brands need to monitor their Share of Search closely, especially in categories like Home & Furniture with low brand loyalty.
Consumer Electronics
This Prime Day, five smartphones got sold every second with 70% of the demand coming from Tier 2 & 3 cities in India, largely comprising of foldable smartphones and newly launched smartphones (OnePlus Nord 3 5G, Samsung Galaxy M34 5G, Motorola Razr 40 Series, Realme Narzo 60 Series and iQOO Neo 7 Pro 5G). Multiple new products were launched this Prime Day, by brands such as OnePlus, iQOO, Realme Narzo, Samsung, Motorola, boAt, Sony, and more in India.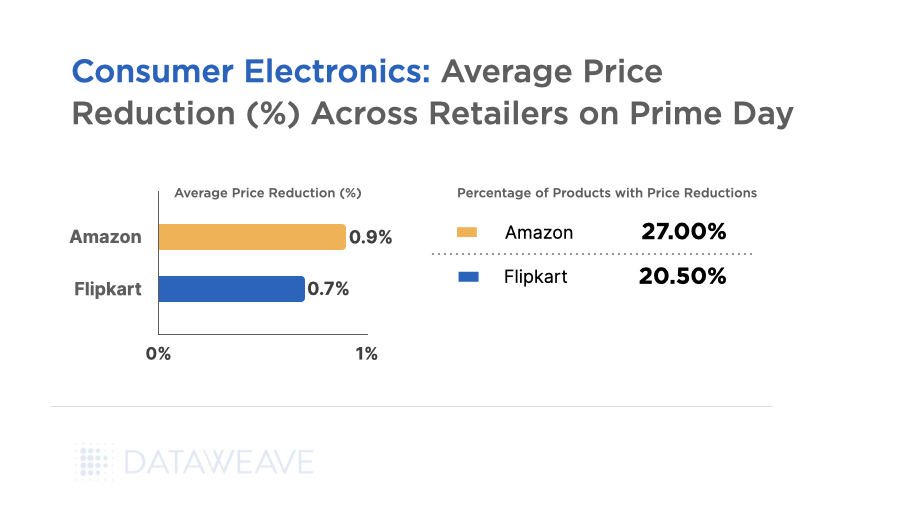 Despite the high demand and new product launches, Amazon's price reductions in the Consumer Electronics category averaged only 0.9% across 27% of its assortment. Similar to what we observed in the Home & Furniture category, this can be attributed to the prevailing high average discount of 44.8% the week prior to Prime Day. Essentially, in Consumer Electronics, shoppers needn't always wait till sale events like Prime Day to view the most attractive deals. Several are offered even during the days leading up to the sale.
Across subcategories, Earbuds (2.4%), Wireless Headphones (1.6%), and TVs (1.3%) received the highest price reductions due to their popularity and high sales volumes during sales events. On the other hand, Smartwatches (0.6%), Drones (0.4%), and Smartphones (0.3%) had lower markdowns.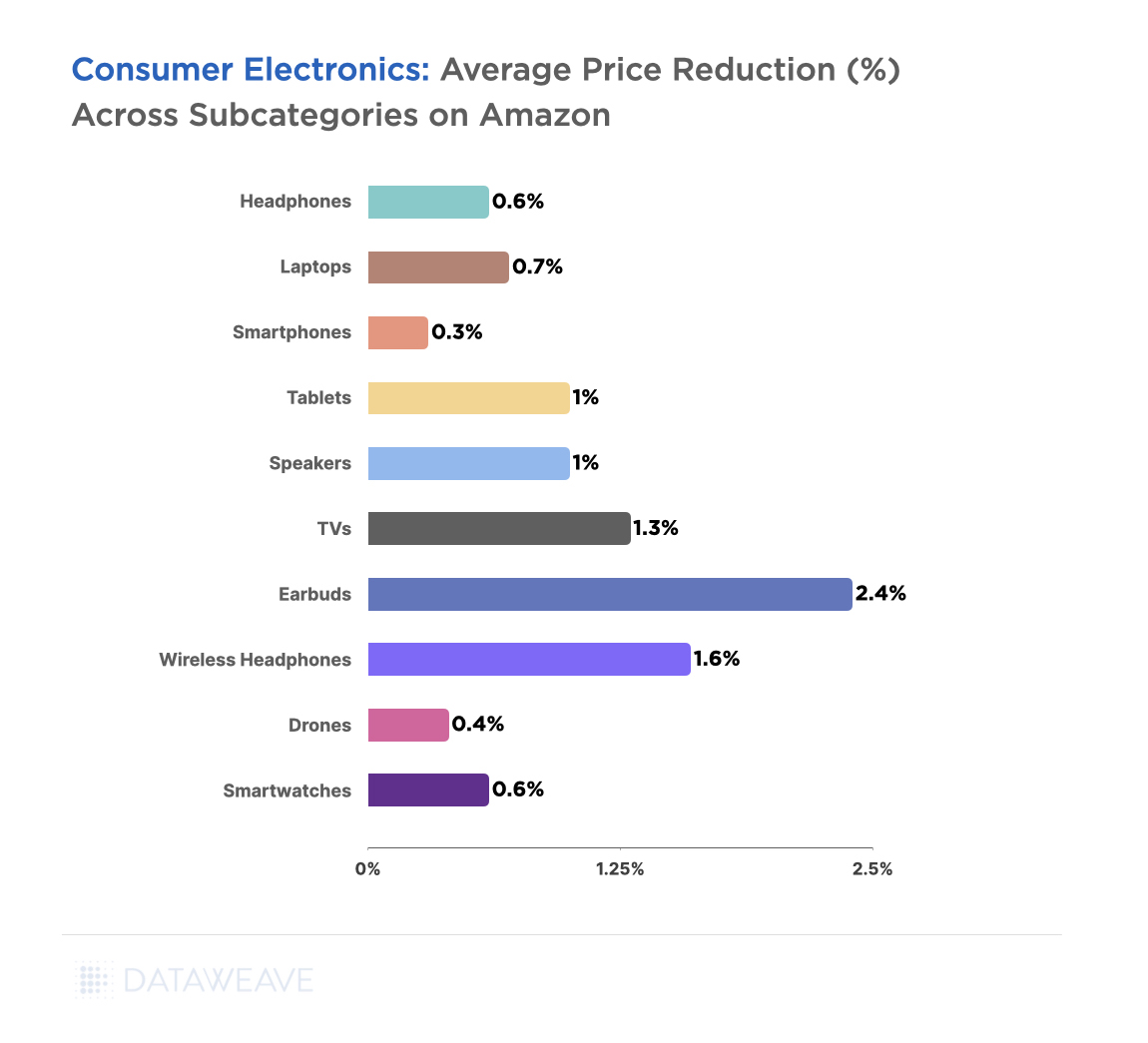 In terms of price reductions across brands, Da Capo (52.6%), Muzen (33.3%), JLab (23.6%), and Earboss (21.5%) offered the most attractive deals in the Consumer Electronics category. Notably, Amazon Basics also offered modestly attractive deals (12.2%), highlighting Amazon's strategy of promoting in-house brands.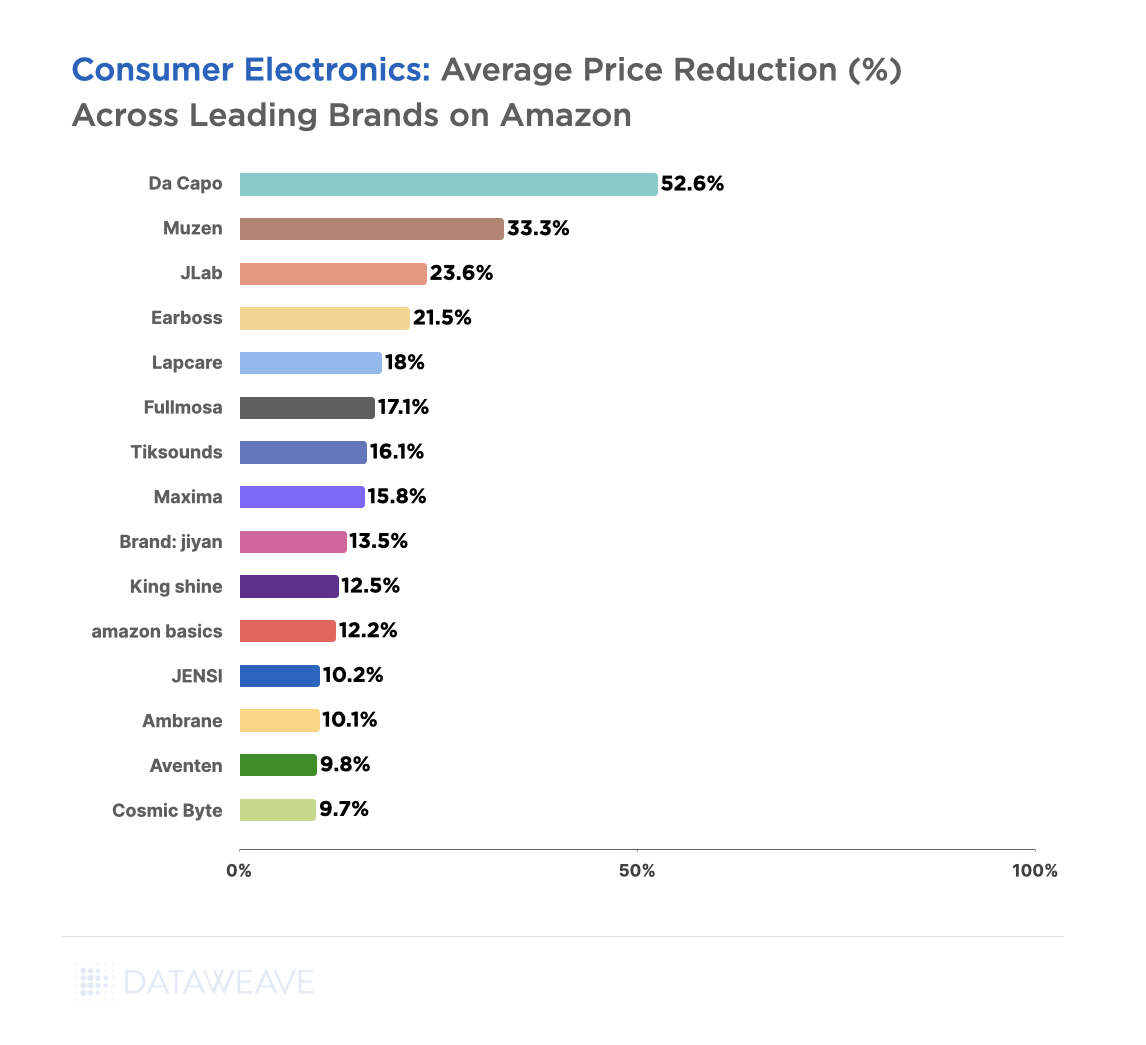 The Consumer Electronics category has a loyal shopper base, but generic search keywords like earbuds, headphones, and tablets remain essential for attracting high-intent shoppers and increasing brand awareness. So when it comes to Share of Search, Noise in Smartwatches, Samsung in Smartphones and Tablets, and HP in Laptops, all made strong strides in building their discoverability on Amazon during Prime Day.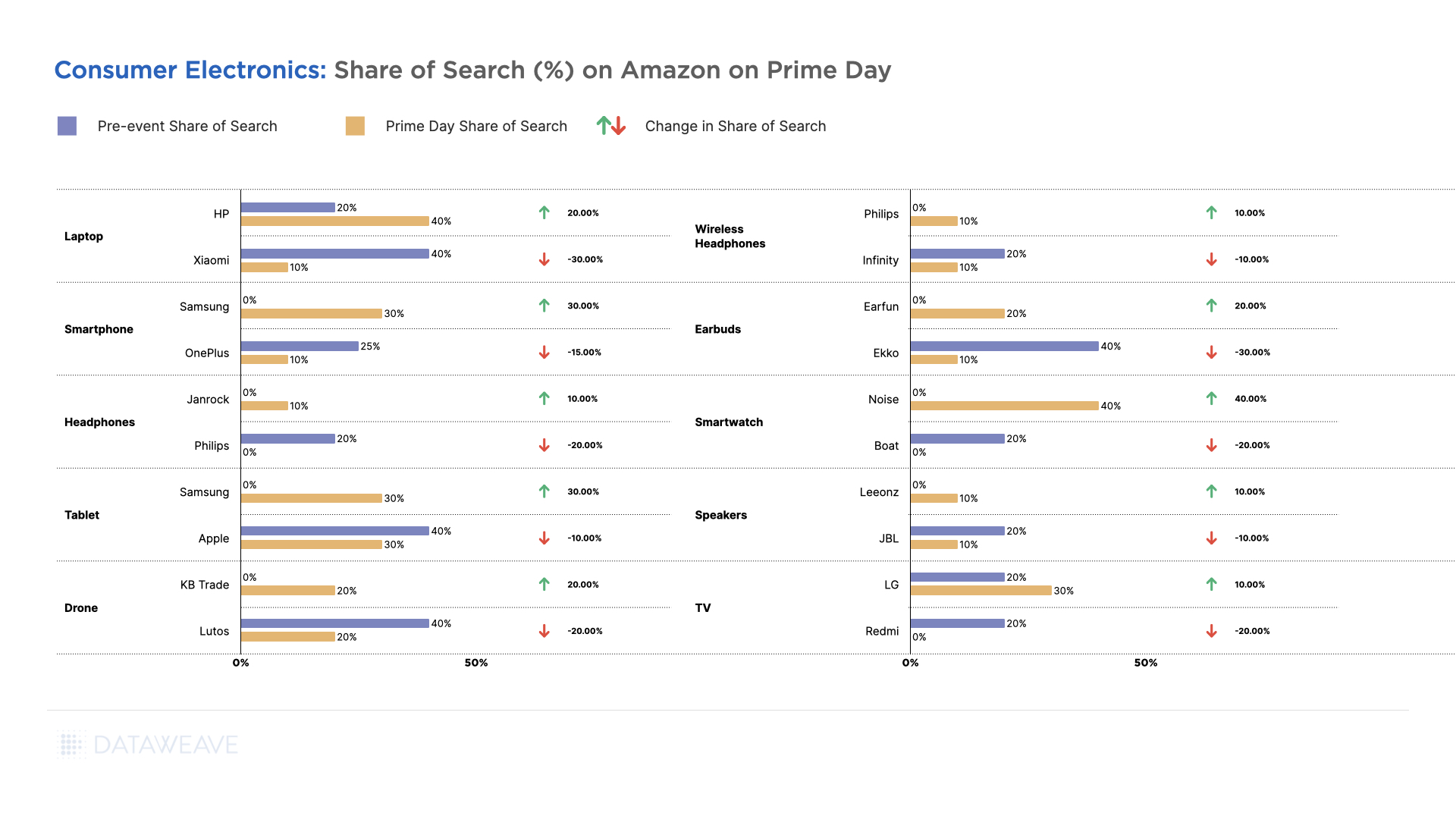 Xiaomi in Laptops, Ekko in Earbuds, OnePlus in Smartphones and Apple in Tablets, lost out to other brands during the sale.
Health & Beauty
Health & Beauty emerged as the top-performing category in terms of additional discounts during Prime Day in India. Our data shows that Amazon offered an average additional discount of 5.3% on almost half of its products (46.8%) in this category. Competing head to head with Amazon in this category, Flipkart offered 5.5% additional discounts across 35.8% of its assortment.
Within all the subcategories we analyzed, Sunscreen (7.5%), Make-Up (7.2%), Shampoo (6.6%), and Moisturiser (6.4%) saw the highest price reductions on Amazon. Conversely, staple items like Toothpaste (3.%) and Beardcare (3.6%) had lower markdowns.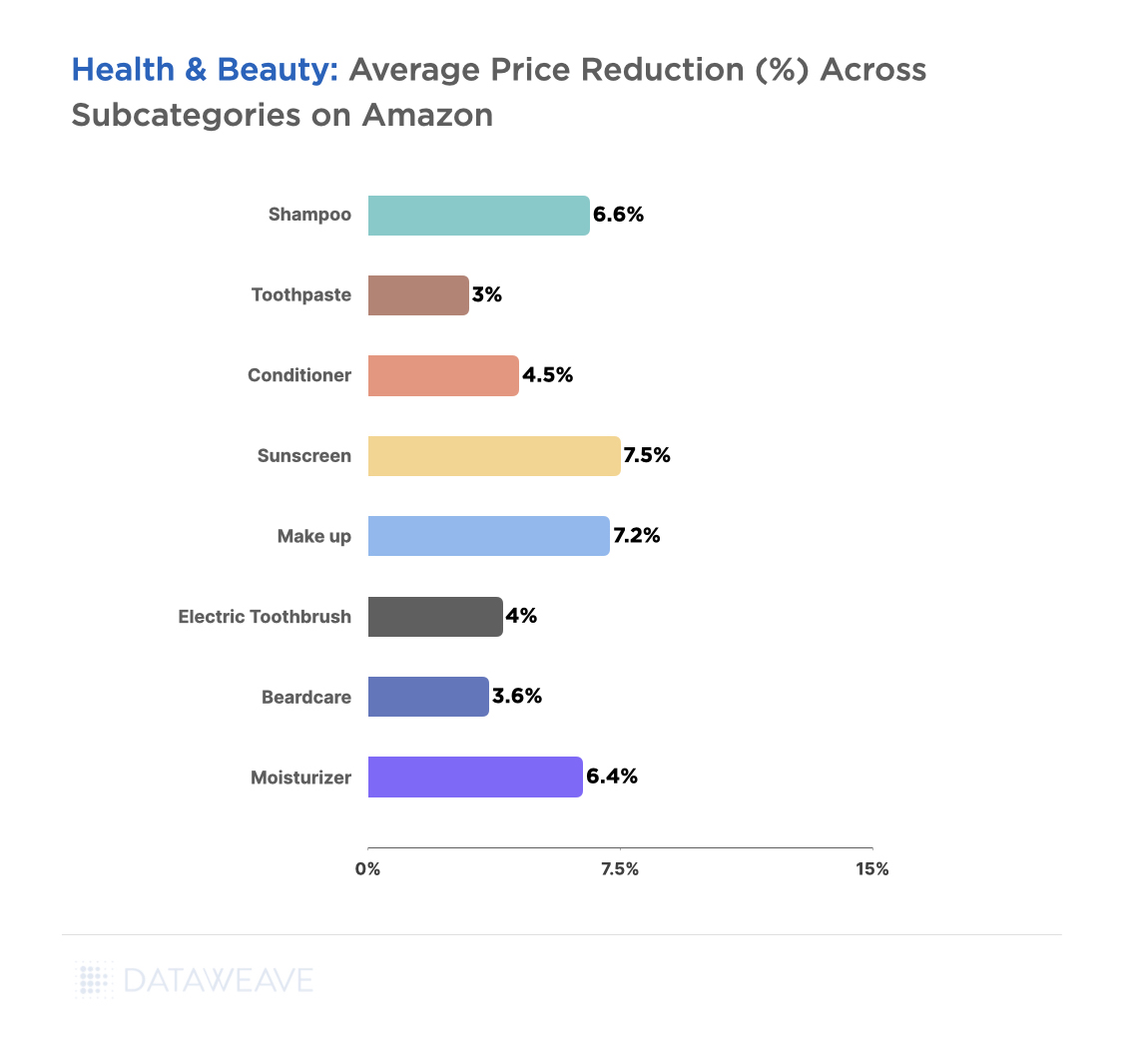 During the sale event, brands like Sadhev (43.4%), Clear (41.1%), Teenilicious (40.4%), and Coal Clean Beauty (38.4%), offered the most attractive deals.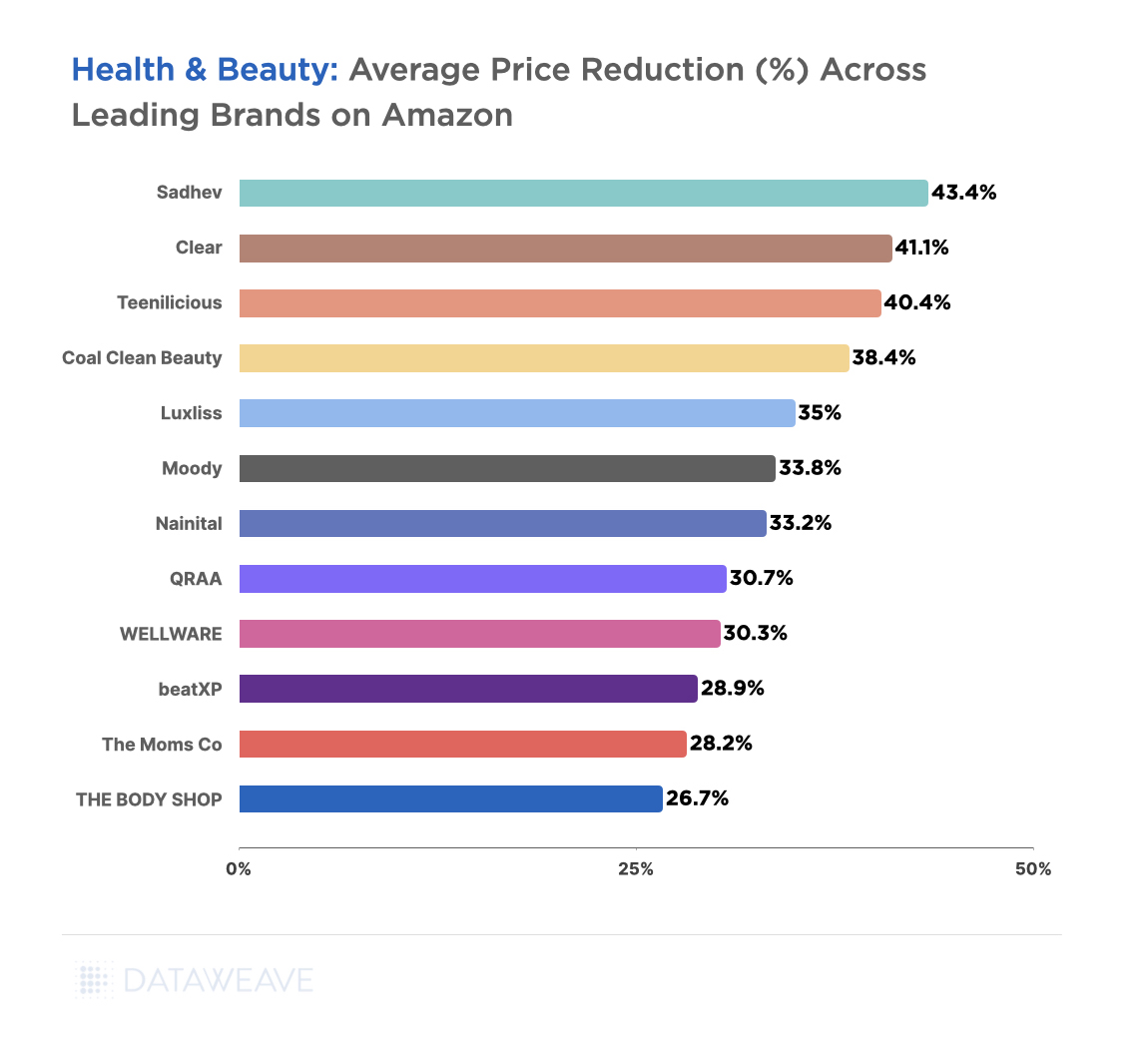 In terms of significant gains in Share of Search for brands, L'Oreal Paris in Shampoo and Conditioner led the pack along with Oracura in Electric toothbrushes and The Formularx in Moisturiser. Perfora in Toothpastes and Ustraa in Beardcare also gained more than 10% in their Share of Search during the sale event.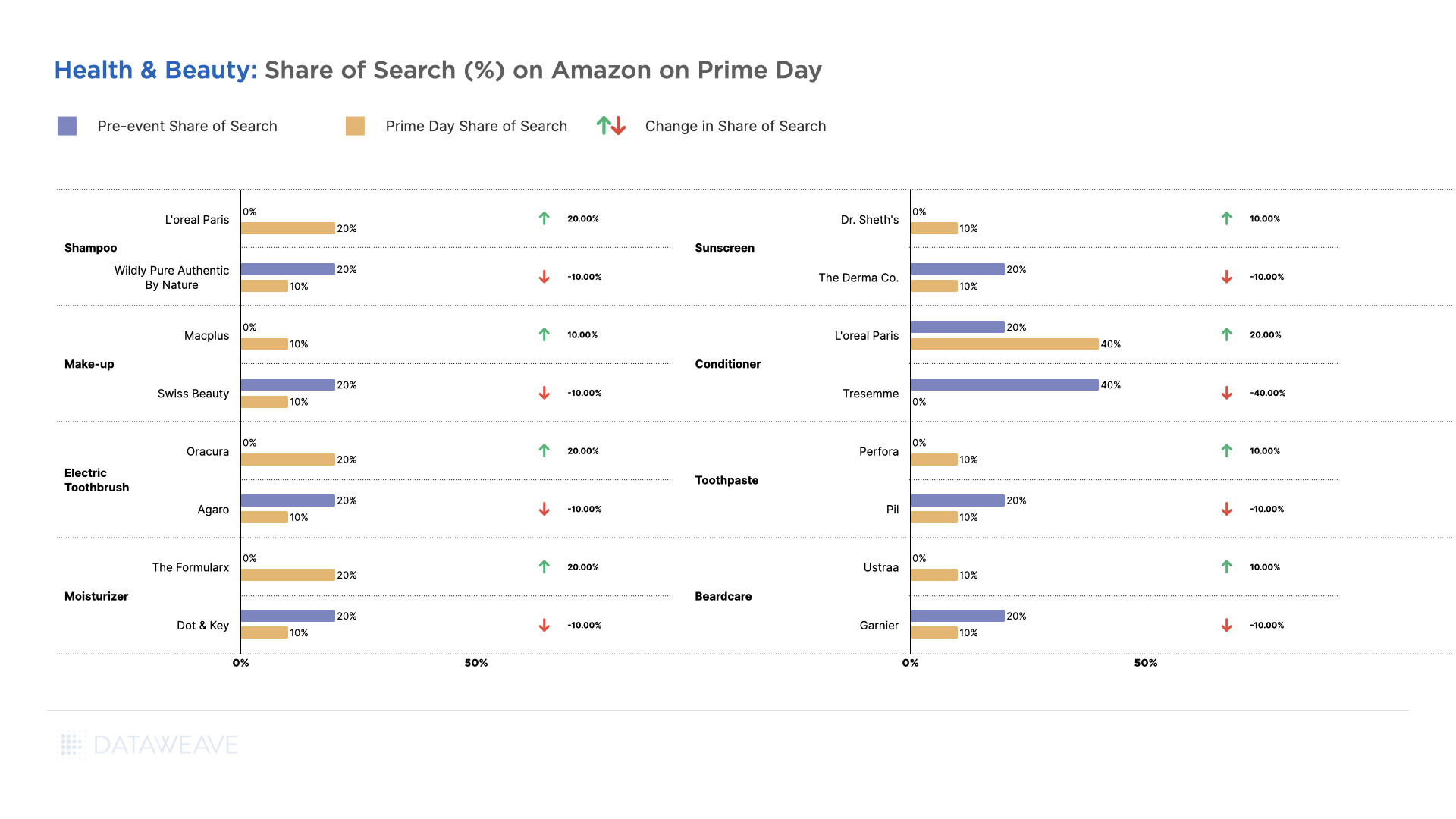 Other popular brands like Tresemme in Conditioners, and Swiss Beauty in Make-Up surprisingly had reduced visibility among the top search results for relevant subcategories.
Navigating the Competitive Landscape: How To Thrive During Sale Events
Amazon's strategic pricing during Prime Day reflects a balance of profitability, inventory, and competition. Competitive pricing insights empower retailers to make informed decisions, optimize strategies, and thrive during high-stakes events. Prime Day serves as a crucial opportunity to drive sales, attract new customers, and boost loyalty. Therefore, monitoring competitor prices accurately, at scale, is essential for impactful pricing strategies.
For more insights on staying ahead during sale events, reach out to us today!
If you'd like to learn about Amazon's pricing and discounts during Prime Day 2023 in the US, check out our analysis here.